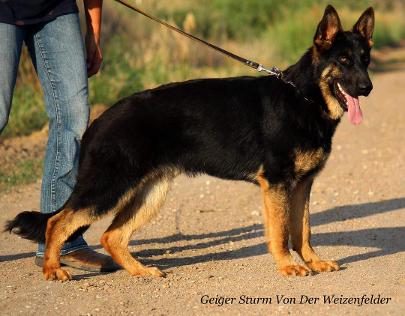 Oops Litter
Sire: Geiger Sturm von der Weizenfelder
Dam: Nevada Rain von der Weizenfelder
This was not a planned litter. Unfortunately these two beautiful dogs will be having a litter with us. We did not plan this as both dogs were under the age of 2 when this mating happened. We have consulted with our Veterinarian on the matter and we are reassured these puppies and the Dam will be just fine!
There is no going back at this point. We will focus on nutrition for the Dam as she is still growing and the overall nutrition of her litter. Nevada will be just fine, as will this litter of beautiful puppies!
What I can tell you is that these puppies will be Clear by Parentage the following diseases:
DM-Degenerative Myelopathy
Anhidrotic Ectodermal Dysplasia
Hemophilia A
Hyperuricosuria
Leukocyte Adhesion Deficiency
Mucopolysaccharidosis VII
Renal Cystadenocarcinoma
Nodular Dermatofibrosis
-----------------------------
(Geiger) Sire's Info:
Geiger is out of our Meiko Vom Zellwaldrand, our Male from Germany! Who has produced many Amazing puppies out of our Kennel!
Geiger's Dam was our Gaia von der Weizenfelder (Solid Black DDR LINE Female)
Meiko is OFA hip FAIR
Gaia is OFA hip GOOD
----------------------------
(Nevada) Dam's Info:
Nevada is out of our West German Working Line Male: Django von der Weizenfelder from the Southland who has produced many healthy and beautiful puppies our of our Kennel.
Nevada's Dam was our female (Small Compact Working Line):
Mikannes Cherub Z Von Dak. High Drive Girl!
Django is OFA hip Good
Mikanes is OFA hip Excellent
------------------------
So, Genetically with the above ratings on the hips we do not foresee any Genetic Hip issues in this Litter!
None the less, the Sire and Dam are too young to be Certified with Hip Scores through the OFA until 2 years of age, so we are pricing this litter a bit less than our normal litters.
Puppies will be priced at $800
AKC LIMITED REGISTRATION ONLY
-------------------------------
Full Registration price on this breeding is $1400 but is not available at this time!



We can release Full Registration to any of the puppy buyers that want to do the following:
Have an OFA HIP Preliminary done at 12 months of age with a passing score.
And Pay the remainder fee of $600 to Weizenfelder Kennel

After both the above are done, we then will contact the AKC and have them release Limited Status and give you Full Breeding rights and Full AKC Registration!
-------------------------------
But for now, only Limited AKC Registration will be Offered at the sale of these puppies.
Yes, It is an Oops litter. But you will be getting one heck of a puppy due to our Mistake! Click below to see the Pedigree of this litter: