Growing up in McPherson Kansas, I was a little girl that loved animals.
Below is a picture of my mom and I.
The very 1st dog of my own was "Pepsi". He was a Shepherd mix.
We didn't have a lot of money to spend on a top quality, top pedigree dog.
Dad took me to our local Animal Shelter where a small area had some cute very dark chubby puppies in it. I saw the tag read "Shepherd Mix".
So, a mutt will do. We left with him and my adventures soon began.
I had the best times with this dog and he was a RESCUE! I am a massive advocate for rescue but I am also a Breeder. They normally don't go hand in hand but I do my best to make it work.
When I was little, I would bring home every injured bird, rabbit, kitty or even the
occasional snake!
My parents were so accepting of my passion for all critters.
We had many dogs and cats as a child. It became very apparent to my mother and father that we would need to move to the country to keep up with all my new animal additions and rescues. They soon purchased country property and we built a house. I was 14 years old.
When I was 15 I brought home a wolf hybrid PUP! Yes, that is correct. We named
him Chief and boy that guy could HOWL!
Mom and Dad were not happy with this but knowing my love for all animals they
said ok. The adventure never ended with Chief around. I sure miss this guy. He
taught me so many things!
I would save my money just to rescue dogs and find them homes. Everything was done out of my pocket. I would do odd jobs on my dads construction sites to save back a little money here and there.
My mother showed and raised Saint
Bernard's
when I was younger.
I was her handler in the show ring.
As much as I loved these dogs, they were just not the breed for me and carrying
around a drool rag in the show ring made me want to puke!
I will say however, they are very lovable giants.
Below is a picture of my brother and I with Koki, one of my moms show dogs.
My dream was to one day raise German Shepherds. They were the most amazing breed to me. So I began working towards that goal as well.
In 2002 I purchased my 1st German Shepherd and the adventures began.
I began to show with the AKC and didn't get very far as he was only partially show-
line. We had a lot of fun none the less. We also learned a lot.
I am on the right, pictured below with Thaddeus.
I began to focus on obedience training.
My friends and I had so much fun. Thaddeus was so darn smart and I swear could read my mind!
I moved out shortly after I turned 18 and began working full time. My dream of breeding German Shepherd's needed much funding which I did not yet have. I added an amazing female "Roxi vom Mystical Haus". She was a beautiful sable girl. My best friend and my cousin traveled with me in a 2 door Chevy Cavalier to NC to get Roxi. All of us slept in the back of the car at rest areas there and back on our trip to get Roxi. Funds were tight and we had to save money, this was the way we cut hotel expenses. Roxi was also not a cheap girl. It took all of my savings to buy her.
This is when I learned what the difference between a "Working Line Dog" and a "show-line dog" was. Roxi was a working line dog. She was powerful and strong. Always on the go. She was protective too.
My Breeding program then began.
I soon began building a reputation as a German Shepherd breeder.
We all have to start small, but I wanted to grow. I loved the breed and enjoyed breeding.
Years down the road I was introduced to GENETICS!
A crazy world about DNA testing and breeding only the most healthy dogs.
Wow, this was a heartache for me at times. I would purchase amazing dogs with amazing Pedigrees and they would not pass testing. Dogs would be spayed or neutered and adopted into good pet homes. I was determined to be a reputable breeder, so I needed the healthiest dogs possible. My outlook has been that if you could prevent a terrible disease in a litter of puppies, why wouldn't every breeder do this?
Dogs are family to us all and great care needs to be taken in everyone's breeding program. So it began "Quality and Genetic Tested Dogs".
Still with German Shepherds as my only breed in site I continued breeding, training and most of all meeting amazing people and having fun. I continued to take in my rescue animals too. It has always been my passion.
Below: a baby dove brought me me.


I raised this beautiful bird until the day he was released.


That was a wonderful Day!
I will go ahead and post some more pictures and the description for each one!

Below: Me giving Roxi a good Bath. You can tell she is NOT enjoying it!
Yes, I love all animals. My best friend Aimee took this of me outside the house after a swim in our little pool. I fell asleep next to my little duckling. This was a Muscovy Duckling I hatched in an incubator.

Here is a fun picture of me with some of Roxi's puppies. There is nothing more amazing than puppy kisses!

Roxi and I went everywhere together. I had the most fun picking her up to cradle her like a baby. She never really liked it but would allow it. Aimee, my best friend snapped this picture in mid pick-up! I always called her my "baby".

Every dog I ran across on trips or at family functions I had to hug and get pictures with.


I was that girl that left the party to go hang out with the dogs. Literally!


This is one of my Aunt's dogs when I visited in Texas.
Below: Another one of my Aunts dogs. Aimee, my best friend always had to take pictures of me with dogs. She said it was the only time I acted "Normal". Ha, maybe she is right!

Below: Deegan was rescued from a shelter as he was going to be euthanized that same day. He was very sick and close to death. I nursed him back to heath and once healthy and strong he found a new home. We had so much fun together!

Soon I acquired "Geschenk". A German Shepherd from Germany!

He has become the foundation in my GSD Breeding program.
His registered name is "Meiko Vom Zellwaldrand"
Call name "Geschenk" which means Gift in German.
Tug-of-war was and still is our favorite game. He is 7 months old in this picture!
Below: Abby was a dog that was due to be euthanized in Abilene Kansas. No way, not on my watch. I paid her bail and had her spayed, then placed her in the most amazing home a dog could ever have!

Placing Abby was hard for me. She was one I became very attached too. VERY!
Yes, I had a Harley and loved to ride motorcycles. When I was 18 I ran out and purchased a sport bike. Soon I had one of the fastest motorcycles. 2006 GSXR 1000 was my dream bike and was indeed in my garage. Dogs and bikes! What more could a girl ask for! When I was in my 20's I had a motorcycle accident and injured my back and neck. The Doctors told me no more motorcycles, HA!
In 2018 I did sell my Harley, to help pay for Rural Water to come to our Farm.
I had a to make a choice! My farm and dogs or a motorcycle.
Below: I took Geschenk on the toy run when he was just a pup. We had so much fun!
Not only dogs. Once I moved to the country I began rescuing horses from the Kansas and Oklahoma Kill Pens. Where horses are shipped to slaughter for their meat. We now have had 6 Kill Pen Rescue horses and one horse that was actually seized from a home in our own County. A bad horse neglect case.
Below: Some of our rescue horses and goats!
Below: My 1st Kill Pen horse. "Sweetie"
She came to us skin and bones. Today she is healthy and enjoys life.
Update: In 2019 Sweetie was diagnosed with "Cushings" disease. We battle this daily with her. But she will be given the chance she deserves with us. We are her final Home.
She will never be adopted out to a new home.
She owns my heart!
Below: Dancer, another Kill pen horse. She now lives with Rick Hawley-RC Arena, located in Park City Kansas. She is very loved.
So, you can see, I am a huge Animal Lover.
--------------------------------------------------
One of our rescue dogs was a Pit Bull mix.
His name is Oakley. We had a birthday party to attend. My brother let
me haul Mr. Oakley along for the adventure in his little 2 seat BMW. Oakley rode
on my lap. What a site, I had to take a picture!
If you come to Weizenfelder Kennel to pickup your new family companion don't judge this old farm. The house was built in 1861. It was in bad shape when I bought it years ago and is a work in progress. It was actually abandoned for 3 years! We had to take it back from the critters, and more! Little by little we have began to fix it. It is a slow work in progress.

Growing up in a construction family we do all the work ourselves.
I enjoy building and working on things.
This old house is a real project, but we love it!
If you come visit Weizenfelder Kennel you will meet our FARM DOG "Copper".

He loves everyone and simply adores HIS puppies.

He will think you are here to see him, so please make him think that!
He is our babysitter to every litter we have.
Copper has a bad spine, bad hips and bad knees. He was just born put together all wrong. We love him so very much!
He makes up for his struggle in life with dog like smiles and hugs.
Just sit down, put your arms out and he will climb into your lap!
He has really become our mascot!

Copper loves children, especially his God-Daughter
So cute with his summer hair cut!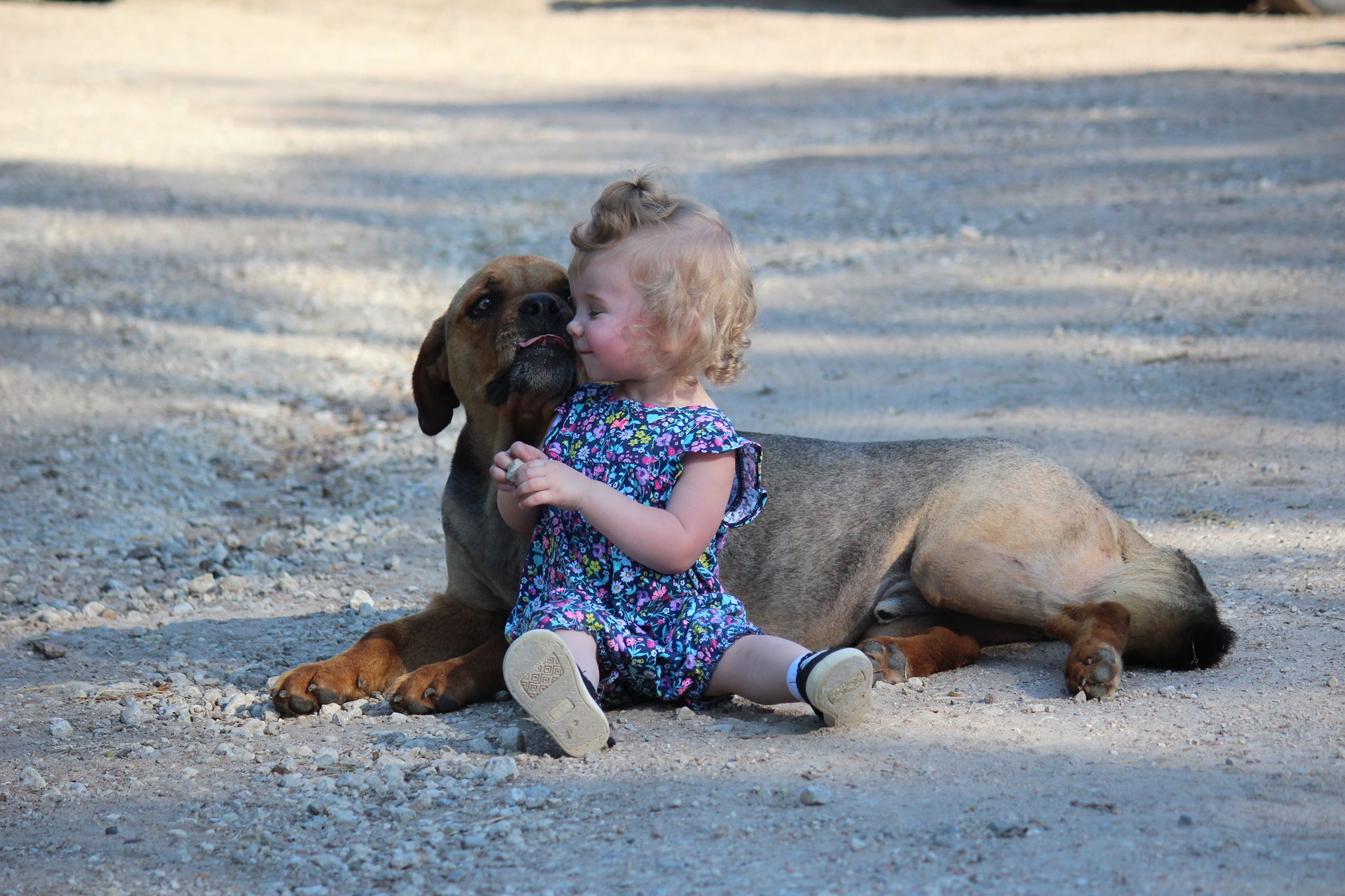 To end this short story about me, the Breeder, I will tell you about the greatest man in my life. My FATHER!

He made everything in life possible for me. He worked hard every day so I could have the animals and things I loved. He woke up every day just to make me smile.
Now I am a strong woman who can work on houses, build fences, ride motorcycles and so much more. He shares the same compassion towards animals that I do.
When I was a little girl, I had a cat named Clyde. She was my best friend. For the longest time Dad had me believing she would actually leave gifts for me under my pillow. When I came home from school dad would often say, "Clyde left a gift under your pillow again." I would run upstairs and find candy, my favorite Peanut M&M's every time.
Later I learned that it was not my cat leaving these gifts under my pillow.
It was my father!
But the greatest gift in life he gave me was his "His Love".
I hope you enjoyed the story and pictures!
This is me, the Breeder!
-----------------
Have a Blessed Day!