We get asked a lot, which insurance we recommend to our puppy buyers.
That is a good question.
1st - ask your personal veterinarian about which insurance they have worked with that seems to do a great job!
---------------------
Next, look below. I have found some things online to maybe help you choose!
I saw all these postings that Pets Best was amazing.
Yet... when you actually search for customer reviews they were hard to find, but I did fid them! Yikes...
A TWO star review. No thanks.
See for yourself, click the picture below to be taken to these reviews.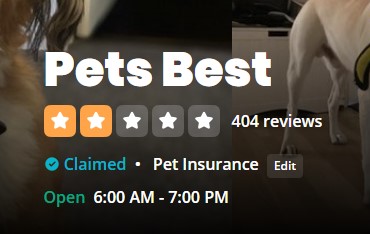 Of course at the top is AKC Pet insurance. When you buy a puppy from us, and register this puppy online with the AKC you will be asked if you want 30 days of free pet insurance for your puppy! We always enroll for the free 30 days!
But, you can also change your plan, upgrade and have a great insurance on your dog as well!
We like AKC Pet insurance also!
It gets a 4.1 star review from Trustpilot and a 4/4.5 star review
from Consumer Affairs!